FYI: We will focus this topic in Rust landscape which usually follow Python and C++ developments.
llm is a Rust ecosystem of libraries for running inference on large language models, inspired by llama.cpp.
The primary crate is the llm crate, which wraps llm-base and supported model crates. This is used by llm-cli to provide inference for all supported models.
It is powered by the ggml tensor library, and aims to bring the robustness and ease of use of Rust to the world of large language models.
https://github.com/rustformers/llm
Conversions note

graph TD;
  A("PyTorch") --"<pre>1️⃣/2️⃣&nbsp;export_state_dict_checkpoint.py</pre>PyTorch model checkpoints (pth)"--> B(Python) --"<pre>3️⃣&nbsp;convert-pth-to-ggml.py</pre>Geometric Deep Learning Markup Language (ggml)"--> C(C++)--"<pre>4️⃣&nbsp;quantize.cpp</pre>Quantized ggml (bin)"-->D(Rust);


1️⃣ tloen/alpaca-lora/export_state_dict_checkpoint.py (llama-7b-hf)
2️⃣ jankais3r/LLaMA_MPS/export_state_dict_checkpoint.py (llama-13b-hf)
3️⃣ llama.cpp/convert-pth-to-ggml.py
4️⃣ llama.cpp/quantize.cpp
---
graph LR;
A("🐍 llama") --"4-bit"--> B("🐇 llama.cpp")
B --port ggml--> C("🦀 llm")
A --"16,32-bit"--> CC("🦀 RLLaMA")
A --Apple Silicon GPU--> AA("🐍 LLaMA_MPS")
C --"napi-rs"--> I("🐥 llama-node")
E --"fine-tuning to obey ix"--> D("🐇 alpaca.cpp")
E --instruction-following--> H("🐍 codealpaca")
A --instruction-following--> E("🐍 alpaca") --LoRa--> F("🐍 alpaca-lora")
B --BLOOM-like--> BB("🐇 bloomz.cpp")
BB --LoRA--> DDDD("🐍 BLOOM-LoRA")
D --"fine-tunes the GPT-J 6B"--> DD("🐍 Dolly")
D --"instruction-tuned Flan-T5"--> DDD("🐍 Flan-Alpaca")
D --Alpaca_data_cleaned.json--> DDDD
E --RNN--> EE("🐍 RWKV-LM")
EE("🐍 RWKV-LM") --port--> EEE("🦀 smolrsrwkv")
H --finetuned--> EE
EE --ggml--> EEEE("🐇 rwkv.cpp")
A --"GPT-3.5-Turbo/7B"--> FF("🐍 gpt4all-lora")
A --"Apache0/nanoGPT"--> AAAA("🐍 Lit-LLaMA")
A --> AAA("🐍 LLaMA-Adapter")
A --ShareGPT/13B--> AAAAA("🐍 vicuna")
A --Dialogue fine-tuned--> AAAAAA("🐍 Koala")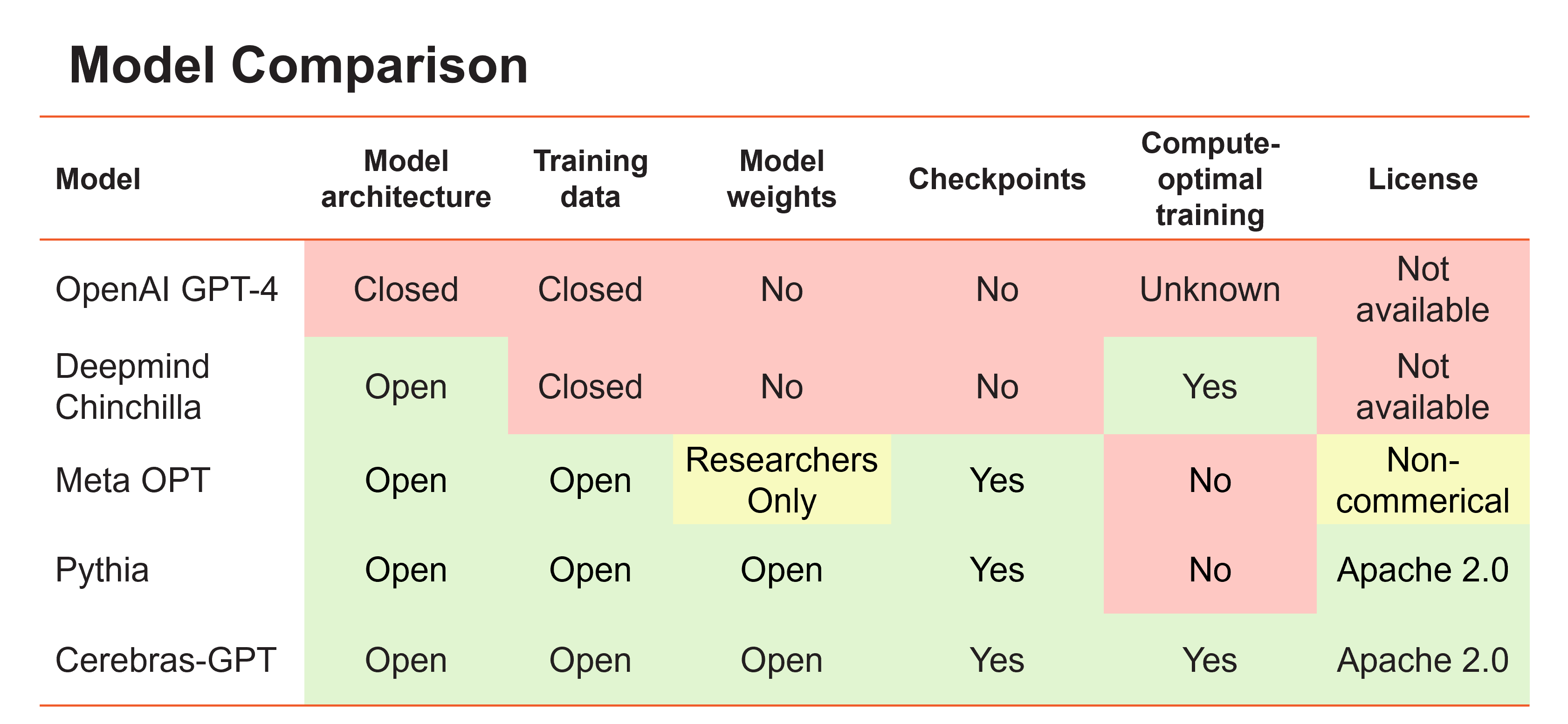 https://www.cerebras.net/blog/cerebras-gpt-a-family-of-open-compute-efficient-large-language-models/

https://bair.berkeley.edu/blog/2023/04/03/koala/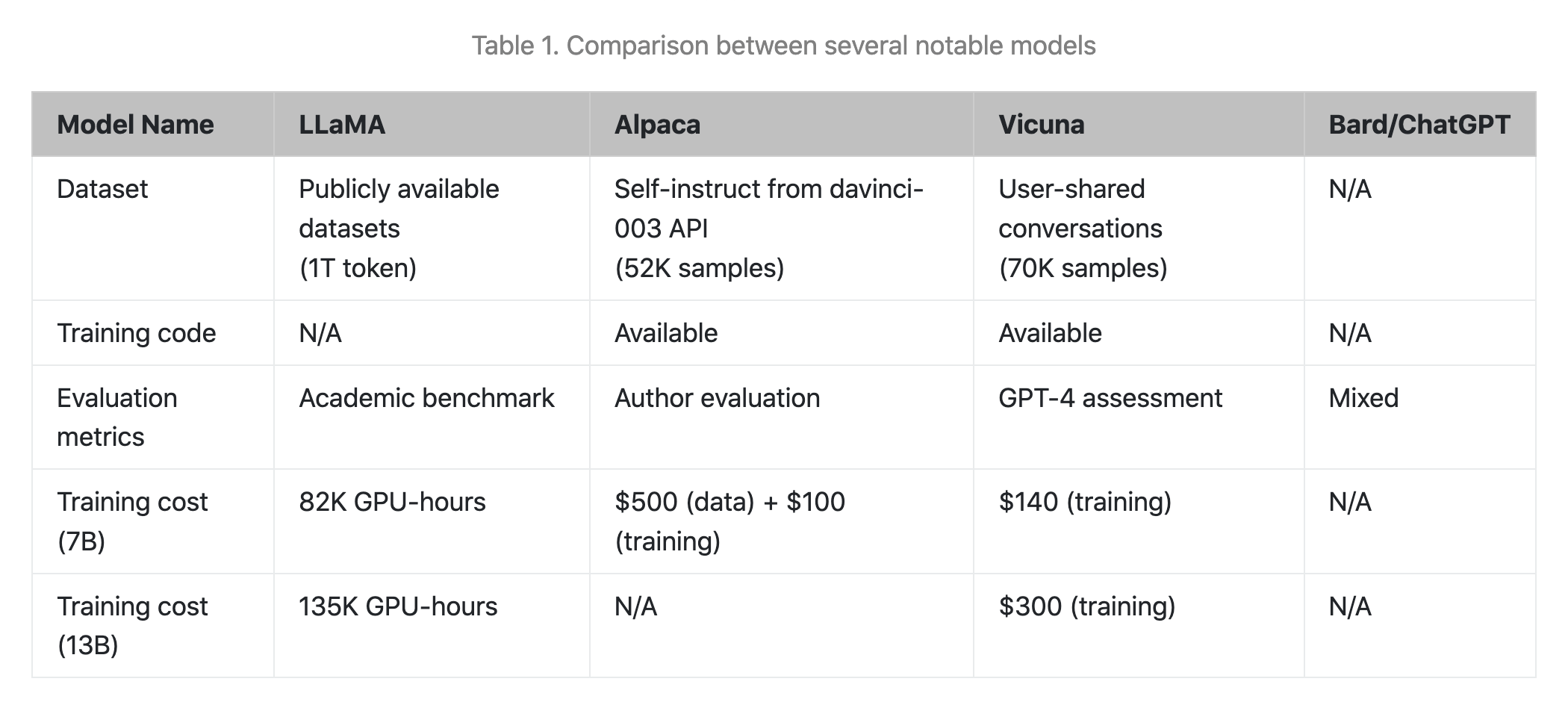 https://vicuna.lmsys.org/
graph LR;
Z("LLM")
Z-.Flamingo-style LMMs..-X("OpenFlamingo")
Z-.Chinchilla formula..->Y("Cerebras-GPT")--LoRA--> YY("🐍 Cerebras-GPT2.7B LoRA Alpaca")
Z-..-ZZ("Dolly")

graph TD;
AAAA("ChatGPT")
AAAA --> AAA
AAAA ---> J("🦀 llm-chain")
AAAA --> I
AAA --> A
A("🐍 langchain")
A --port--> AA("🐥 langchainjs")
AA --> B("🐥 langchain-alpaca")
D("🐇 alpaca.cpp") --> B
E-..-D
E-..-DD("🐍 petals")
E("🐇 llama.cpp") --ggml/13B--> H
F("🐇 whisper.cpp") --whisper-small--> H
H("🐇 talk")
I("🐍 chatgpt-retrieval-plugin") --> II("🐍 llama-retrieval-plugin")


Refer to: https://replicate.com/blog/llama-roundup